October 26, 2017
Hangar 37 now available!
Hangar 37, the new Outer Space themed FREE Space Themed Hangar 37 DLC for Infinite Minigolf is now available!
Put on your space suits and prepare for landing in Hangar 37 on the Intergalactic Spaceport in this sci-fi Infinite Minigolf adventure! Meet a goofy team of aliens and robots who will help you complete four new and challenging courses, consisting of 108 brand new minigolf holes.
Now available for Playstation 4, Xbox One, Steam and the Nintendo Switch, Hangar 37 tests your skills in four new tournaments designed by friendly aliens like Fred and brave astronauts like Nova.
Try out the number of courses included, or enjoy even more course building options as you place gadgets and build up your version of a futuristic course to share with the Infinite Minigolf Community.
Share your best designs with the community and join a library of more than 15,000 courses!
October 03, 2017
Free Infinite Minigolf DLC!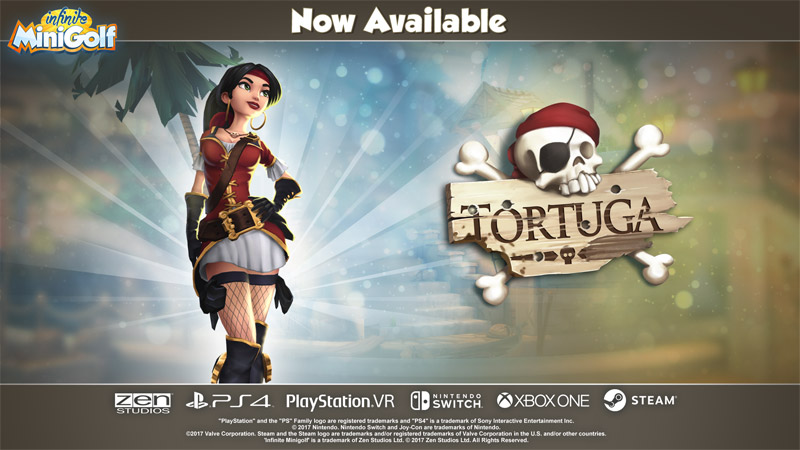 Pirate Themed 'Tortuga' Expansion Now Available for All Infinite Minigolf Players
Set sail to the lovely Caribbean pirate town of Tortuga and play along side a crazy cast of priates as you embark on a new Infinitie Minigolf adventure! The pirate themed Tortuga expansion for Infinite Minigolf is now available as a free update for all players on PlayStation 4, Xbox One, Nintendo Switch and Steam. The theme arrives with 172 new holes, course creator tools and a new set of tournaments.
Captain Salvador and his crew of buccaneers have many pirate inspired surprises while you play through the 108 holes across four brand new tournaments. Build your own pirate themeed course using brand new tiles and pirate themed objects, and share them with the Infinite Minigolf community!
Players have already created and shared more than 13,500 courses with the global Infinite Minigolf community. All user created content is shared across all platforms.
July 25, 2017
Infinite Minigolf is now available!


Pick up your golf clubs and putt away in Infinite Minigolf, releasing TODAY on Playstation 4, PSVR, Xbox One and Steam!
Switch players we are still waiting to hear back from Nintendo, as soon as we get any updates we'll share!
Explore the endless fun of Infinite Minigolf with cross platform content sharing! This means all user created holes and courses will be available to every player regardless of platform. So if you made a clever hole on Steam the console players can try it out as well! In the easy to use course builder you'll have tons of pieces at your disposal to create the ultimate golf course!
Show your friends your skill in local multiplayer, or join online multiplayer tournaments up to 8 players! With the collection of powerups, obstacles and characters you will find new things to try constantly!
Collect swag for your character by doing missions and acquiring cards to unlock new hairstyles, clothes and even rare golf clubs like the crowbar!
Jump into the neverending possibilites of Infinite Minigolf today!